MARCH 6, 2018, REVISITED, BY POPULAR DEMAND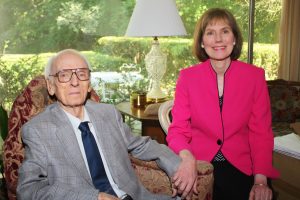 This morning, I'm especially missing my father. He would have been 100 years old today, March 6, 2018.
Dad almost made it to this milestone. He was in his 100th year last Easter Sunday morning, April 16, 2017, when, with his final words of "Love you," he quietly passed away. At the time of his death, his mind was still sharp and clear, but physically he was very frail. His vision had failed him. He had become so tired and weak, that he was unable to get out of bed. His body had simply worn out.
My dad was the very best of fathers: good, kind, caring, loving, and giving; always thinking of ways to make things happier and better for others. An exceptional doctor, brilliant scholar, and true gentleman in every sense of the word, that was my dad.
I take comfort believing that he is with God now. He is well. His sight has been restored, and he can move about freely. He's with his beloved wife (my sweet mother) and with his parents and siblings, all of whom he'd been longing to see again.
Since my father is with God and God is with me, then I trust my father is with me, also. Often when I'm in the house or yard, near the things that he loved, a strange warmth and happiness suddenly comes over me. It's difficult to explain the feeling, but it is most definite in its presence, making me believe Dad lives on here in spirit. I am greatly blessed to have this awareness of him beside me. I also was blessed to have had him with me all through the many years.
Even so, I wish the two of us could sit down and talk again. I wish I could hear my dad's unmistakable voice once more, look into his dear face and see his smile, hold his precious hand, and hug him tight. I wish he could tell me how things are going and what it's like over there. I'd like to tell him what's been happening here, assure him that I'm OK, get his advice on some things.
Most of all, I'd like to say, I love you, Dad. I miss you, Dad. I'm thinking of you today, on your centennial birthday, and every day always . . . until we meet again.
Here's to you, Dad!
Mary
Copyright © 2021 Mary C. Woolling All rights reserved.
0 Comments