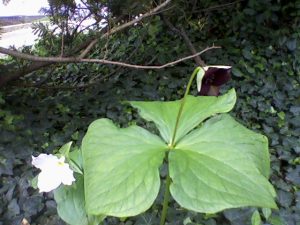 Uppermost in my mind during these past weeks of Lent has been a vivid memory from the day my beloved father passed away — Easter, 2017.
I will never forget the amazing gift of assurance that God provided to me that Sunday morning: two three-petal flowers (one pure white, the other dark red) suddenly appearing on the trillium plant that Dad had set out in the yard many years before.
Those sweet little wildflowers (photo above), nestled under the shade of a hicks yew bush north of the driveway, were just waiting to be found. Had it only been the dark red flower springing up from the bed of English ivy, this sign of hope could easily have been missed; but the pure white flower set off by that lush sea of green could never have been overlooked. It stood out as a shining beacon! Coincidence that both blossoms would just happen to appear right before my eyes on the morning of my father's passing? I don't think so!
Perfectly timed for Easter, the red trillium was a beautiful reminder of the redeeming blood of Christ; the white trillium, of His glorious resurrection and the promise of eternal life.
Blooming there in the yard, side-by-side, on that very day, those two little flowers were also a powerful sign for me that the reunion I was hoping and praying my parents were enjoying was indeed taking place. A "God-sign" that I believe was sent to assure me that my father had awakened in Heaven that Easter Sunday morning, and my mother was right there to greet him. She had been waiting for him for 14 years. Inseparable in life, now together again at last, they were safe and secure in God's loving arms. An undeniable feeling of peace eased my questioning, aching heart that morning. The memory still comforts me today.
I'll never forget the sign of the trillium.
—————————————————————————————————————————–
* The beautiful photograph of the trillium flowers was taken by good friend and Master Gardener Linda McMullen. So grateful, Linda.
Copyright © 2021 Mary C. Woolling All rights reserved.
6 Comments